If you are new to art journals or already are an "old pro", one great type of journaling you may encounter and enjoy is sketch journaling.  A sketch journal doesn't need to be about masterful works of art, though it can be if that is your bend!
Let's look at some purposes of a Sketch journal:
Sometimes it is easier to express an idea or feeling with a quick sketch.
If you have a sudden idea, or see something that you really want to remember, such as an amazing collage, a really interesting house with incredible architectural details, or the smile of a child, you may want to carry a sketch book with you.  Including the location and motivation details is important to retain the moment's inspiration for later use.
A sleeping child can be "caught" in a sketch journal just for your pleasure.
**Travels offer a great reason to have a sketch journal. Details of a visited city or the colors of a sunset can be recorded in your journal.
I had my journal with me when my father was having  triple bypass surgery. I am glad that I did, as I was able to record the first response he gave our family as he came out of the effects of anaesthetics.  It was a wonderful  "Thumbs Up" !
I used  a water soluable sketch pencil , watercolor pencils and my black Copic marker for this page.  A cup of water was right at hand in that waiting room!
If you like to add color to your sketches, Winsor & Newton has a neat little  Paint Box:
or a less costly alternative would be Watercolor Pencils–found at any arts/crafts store. That option allows you the color and quantity choices. Also, watercolor pencils give a bit more flexibility as more color may be added at a later date– before water is introduced to the sketch.
So what do you need to have a sketch journal?
The size and quality of the sketchbook is up to you. Strathmore is a very popular and widely used brand, and depending upon the "weight" of the paper, not overly priced.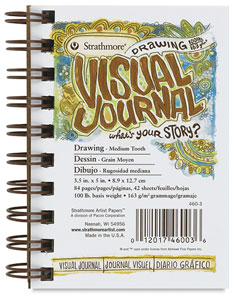 These may be found at Art/Craft stores, and online at a great resource for Art materials is DickBlick.com. I also have some sketchbooks I picked up atWalMart, so it really is your choosing.
They come in many sizes. I have a small one that travels well, and large ones that give me great freedom of expression.
Pencils, brushes, markers…
My watercolor pencils are different brands, Staedtler   and  Derwent, and I don't find much difference between them; you may feel differently if you have used them and prefer one brand over the other.
You don't have to go to a great expense to acquire these materials. I have a habit of perusing the children's sections in my local art stores. I LOVE the "Crazy Pencils" as I call them. They were only a few dollars for the whole set of five!  They make an interesting background or filler. Plus they are just plain fun!  The different colors can really express a mood.  I also like the  brush markers– same aisle, same low price!  These lower cost items can add just the right effect to your page.
Colors I use most often:
 
Raw Sienna
Burnt Sienna
French Ultramarine
 
 
Cobalt Blue
Permanent Alizarin Crimson
Permanent Rose
Other colors sometimes used:
 
Lemon Yellow
Aureolin Yellow
Scarlet Red
Cobalt Violet
Indigo
 
 
Sap Green
Winsor Blue (Green Shade)
Phthalo Green
Manganese Blue
Just a tip on mixing colors, if you wish to go that direction, some typical mixes :
French Ultramarine+Burnt Sienna: blueish and brownish greys, and a soft black
French Ultramarine+Permanent Alizerin Crimson: variety of lavenders (smidge of Burnt Sienna to mute)
Cobalt Blue: water or sky
Permanent Alizerin Crimson+Burnt Sienna: Brick-like hues
Single pigments: Flowers, clothing, other manmade objects
Raw Sienna, touch of Permanent Rose, sometimes smidge of Cobalt Blue or Burnt Sienna: Skin tones
Raw Sienna: Sunlight on things
any blue+any yellow: natural greens
Markers:
One last item that I use in my sketch journaling, and in almost all my other journals is my black Copic marker.
The Copic markers come in over 50 colors! They have two tips, broad and narrow. They are professional grade, and a bit pricey to gather a collection at one time. But a few choice colors will fill the bill.
I also use Sharpies, but am careful not to let them bleed or run on wet papers.
You can always "upgrade" to artist quality of the markers and pencils, if you find that you are really enjoying the applications.
This is a great introduction and help for those wanting to explore sketch journaling.
A North Light review states:
"Based on her own 40 years' experience in keeping an artist's journal, Cathy Johnson knows that an artist's creative life can benefit from written and visual explanations and experiments. Over the course of this book, you will benefit from the tips, techniques and exercises that will make your artist's journals your own. You will also discover how to use your journal to celebrate any occasion or milestone, work through a problem or creative block, plan future works, sketch from life and experiment with new materials or techniques."
Experimentation is the key with these materials and with journaling as a whole! Have fun! Try new things! Record your thoughts, impressions and what you see, or what you wish to see.  A sketch journal could become a good friend.
WOULD YOU LIKE TO SHARE YOUR PAGES? PLEASE DO USING THE MR.LINKY WE HAVE PROVIDED.   I would also love to have you submit pages for future articles. Please email me (Amanda)  at Outsidetheboxdesignstudio ( at ) gmail   (dot) com, Subject: Journal Journeys.